On March 11th 2018 Sabine Constabel and SISTERS – For The Exit From Prostitution! e.V. were rewarded with the Barbara-Künkelin-Award of the City of Schorndorf by Mayor Matthias Klopfer. Here we publish the laudation given by Prof. Dr. Monika Barz and the speech of thanks by Sabine Constabel.

Prof. Dr. Monika Barz, Schorndorf, March 11th, 2018
Laudation for Sabine Constabel
Dear Sabine Constabel, dear family of Sabine,
dear "SISTERS",
dear Foundation Board, dear "Schorndorfer Weiber" [women's organization in Schorndorf],
dear members of the jury,
dear guests,
It is a great honor for me today to be able to hold the laudation for such a worthy award-winner. You, dear Sabine, meet the requirements perfectly that are expressed by the city of Schorndorf for the Barbara Künkelin Award: a woman who has the
"Courage to say 'no',
to denounce grievances,
to point out inconvenient truths
and to break taboos."
I have had the chance to get to know you, dear Sabine, in the last three years through our common political work. I am delighted to have met such a courageous woman. What is so special about you?
Sabine Constabel has been working with prostitutes in Stuttgart's Leonhardsviertel for over 20 years. That alone is nothing special. It is her profession which she exercises with solid expertise, like thousands of social workers in Baden-Württemberg.
The special thing about Sabine Constabel is: she is that expert in Germany who, already 20 years ago, said a bold "no" in public, when the majority in politics and society enthusiastically promoted the liberalization of prostitution. As a "little" social worker from the Leonhardsviertel, she dared to raise her voice and oppose the political trend in lectures and talk shows. She pointed to the danger that liberalization would benefit only the sex industry.
Today we know that brothels have become lucrative businesses. Their operators are no longer regarded as pimps, they have arrived in the middle of our society as wellness managers and they are well respected guests on talk shows. Today the social status of prostitutes is still at the bottom of the scale of values, their financial situation is more precarious and their health more vulnerable than ever. Even brothel operators openly declare that they do not desire this work for their own daughters. Today we know that Germany's liberalized sex market has opened the doors to international organized crime and serves as a safe hideout for criminal human trafficking.
You, dear Sabine, keep on denouncing the fact that despite all the well-intentioned liberalization the prostitutes are left alone in their individual struggle for survival, and exit assistance is missing. On a small scale, you have been developing concrete support projects and creating the professional networks that have made Stuttgart an exemplary model for the whole of Germany.
Sabine Constabel has long been a lone admonisher. She persistently referred to other social solutions as they are practiced in Sweden. There, the social focus is on the johns, the consumers of paid sex. There, the purchase of a sexual service is punished. The Swedes call it "penalization of the johns" and "prohibition of the purchase of sex". Two terms which Germans find difficult and which are politically not easy to convey.
Sabine Constabel breaks the taboo and courageously addresses these issues. She convinces with her milieu knowledge and her objective portrayals of the real life in the various establishments and brothels.
Today Sabine Constabel is no longer alone. Within the past few years, the European Parliament and the European Commission have also been calling on Germany to focus political action on the demand and the johns and to consider following the Nordic model of prohibiting the purchase of sex.
We in Baden-Württemberg can be proud to have such a courageous woman among us.
Sabine Constabel has achieved a lot and has brought movement into this issue. She is chairwoman of the association "SISTERS – für den Ausstieg aus der Prostitution! e.V." [SISTERS – for the exit from prostitution! e.V.]. She is co-initiator of the campaign "RotlichtAus" [Red light off], conducted by "SISTERS" together with the Landesfrauenrat [Women's Council of the Land of] Baden-Württemberg. She was invited as an expert at the hearing in the Bundestag and is a nationwide consultant for political and church committees … and she is, above all and every single day, a socio-pedagogical support for prostitutes in Greater Stuttgart who are seeking help and advice.
Throughout the country, Sabine Constabel enjoys a high reputation among experts. Last January in Berlin, I participated in a nationwide working group called "Frauenrechte und Prostitution" [Women's Rights and Prostitution]. During a break, I passed around two pieces of paper, each beginning with a sentence to be completed:
Sabine ist nicht Mitglied dieser Arbeitsgruppe, aber alle kennen sie. Einige der schriftlichen Antworten möchte ich mit Ihnen heute teilen:
"Sabine Constabel is for me like…"
"When I think of Sabine Constabel, the first thing that comes to my mind is…"
Sabine is not a member of this working group, but everyone knows her. Some of the written answers I would like to share with you today:
Sabine Constabel is for me like…
"a solid rock in dirty waters",
"the conscience of our society",
"a great role model who gives me the courage to continue",
"a constant in the equation with many unknowns called 'trafficking in women'",
"a light that stands for a civil society".
When I think of Sabine Constabel, the first thing that comes to my mind is…
"how steadfast she has been on her way for years."
"that she dauntlessly and incorruptibly fights her great fight against the perfidious system of prostitution – thus encouraging many others."
One woman recalls a statement made by Sabine that she has always remembered: "We do not have to endure what the women living in prostitution have to experience. But at least we should be able to take a close look."
"Where does this woman get the strength for her work? How does she endure all the misery she sees and the blindness of the 'average citizen' for it?"
So much for the spontaneous associations of experts from all over Germany.
Before you have the opportunity of listening to Sabine Constabel in the panel discussion, I would like to share with you a few simple dates and facts about her which – apart from her courageous commitment to women in prostitution – are part of her as well.
Sabine Constabel was born in 1959 in Esslingen together with her twin brother. Today she is the mother of two children and the grandmother of two grandchildren.
She obtained her entrance qualification for an advanced technical college via the second educational pathway and in 1991 successfully completed her studies in social work at the Esslingen University of Applied Sciences. While still a student, she founded "Wildwasser" [NGO that provides help and advice for victims of sexual abuse] in Esslingen. After her studies, she temporarily took over a part-time teaching assignment at the Esslingen University of Applied Sciences. When I asked her the other day why she had stopped, she gave me an answer that made me, a longtime activist and university teacher, rather pensive. This was Sabine Constabel's reply:
"What I can do is see social ills, talk about them and encourage others to take action. I am not a stage actress, what I say should not be consumed. I depend on echo. I wanted to get the students into action, and they wanted grading. "
Her short answer is a concise description of her personality.
After completing her studies in 1991, while replacing a colleague on sick leave, Sabine Constabel got to know the work with prostitutes for the first time. She was – in her own words – "fascinated by the strength of those women, despite the deepest injuries in their biography". Already at an early stage, she had raised her critical voice in the political debates about the "liberalization" planned by the red-green Federal Government. Her first article was published in 1991. In the following years, she was regularly present in the media and on radio and TV. When you enter her name on YouTube, you will find interesting historical documents about her media activities.
The name of Sabine Constabel is closely linked to the café "La Strada", the low-threshold point of contact in the Leonhardsviertel in Stuttgart. The "birth" of this café has a lot to do with her and her dear colleague, the Catholic Sister Margret. Sabine Constabel always knew she needed help from outside. Her purpose was to inform political decision-makers. In the past 20 years, she invited every member of the municipal council to the "La Strada". "They should themselves look into the women's eyes and be shaken." This is her motivation. "Those who helped 'la Strada' were the ones who let themselves be touched. Then it always goes on." This is her conviction.
Dear Sabine, you are not just a follower, you are not following any prophets. You act according to your own inner guideline. You cannot remain silent just to avoid getting into trouble. You take the risk of speaking your mind, even if you give offence. Decisive for you is to be at peace with yourself inside.
You once told me:
"I feel secure in the world when I have no internal conflicts."
It is these clear, authentic sentences that make up your power of political influence.
Yes, we can feel secure in the world when we stand by what we feel inside. Doesn't matter, even if people are upset by our words. Perhaps this is THE central answer to the question of where you have taken the power to "swim against the tide" all these years. You were just at peace with YOURSELF.
Sabine Constabel is demonstrably nobody's follower. But she knows like hardly any other how to motivate people to start running themselves. The foundation of the association "SISTERS e.V.", which supports many women who wish to exit on an individual level, is a result of your initiative. We will learn more about this in the panel discussion.
On the homepage of the city of Schorndorf one can read: "Our society needs courageous women – let us continue to point the way with this award!"
The city of Schorndorf keeps its word and has organized today's award ceremony for Sabine Constabel and "SISTERS e.V.".
Sharing your joy, dear Sabine and "SISTERS", are all those men and women nationwide who insist on the need to rethink prostitution policy.
We are proud of you!
Congratulations!
***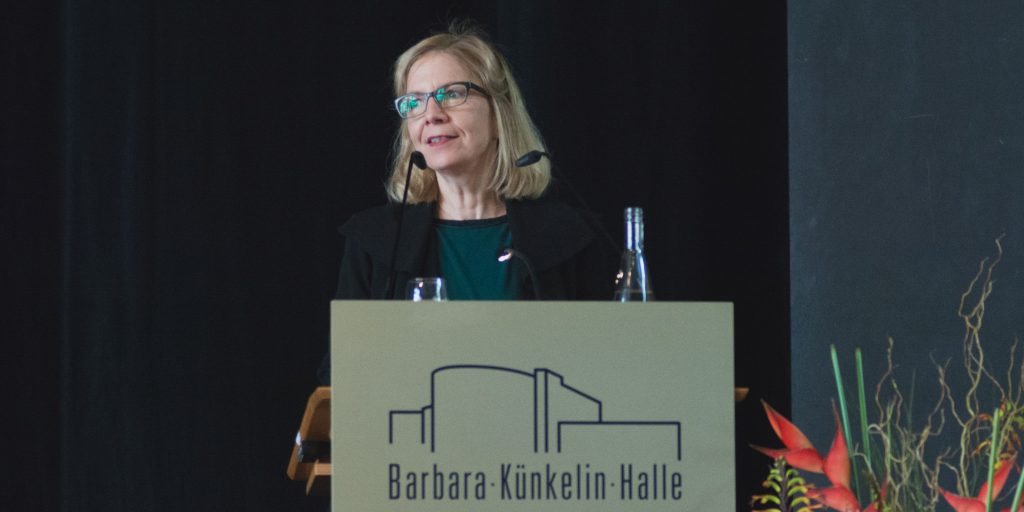 Sabine Constabel, Schorndorf, March 11th, 2018
Speech of thanks
(by Sabine Constabel)
I would like to say thank you to
the jury, which has selected the association "SISTERS" and me,
the Rommel family and the Abele family, without whom this great prize would not exist,
you, Lord Mayor Klopfer,
you, Mr. Diedrich and the "Heimatverein" of the beautiful city of Schorndorf [the "Heimatverein Schorndorf e.V." is a society for the study of local history and culture]
and of course the "Schorndorfer Weiber" [women's organization in Schorndorf].
Thank you, dear Monika Barz, for your appreciative laudation.
It is not easy to hear so much good about yourself. That is very touching, and that is why I would like to pass on the praise to other people.
This award is a great honor and a great pleasure.
The award also goes to those who make up "SISTERS". These are many women and some men who use their time, strength and courage to help women in prostitution.
This award also includes money. For that we say thank you! We will use it exactly where it is most needed. We can thus enable women to exit prostitution and help them start a new life in freedom.
And because we know that every place in the prostitution industry that becomes vacant thanks to our work is immediately filled with a new woman, we commit ourselves in a diverse, creative and colorful way for a society where prostitution, which is a particularly heinous form of modern slavery, can find no more space.
The "RotlichtAus" [Red light off] campaign, which we launched together with the LFR BaWü (Landesfrauenrat [Women's Council of the Land of] Baden-Württemberg), contributes to the necessary social change. It informs, stimulates discussion and thus forms an indispensable counterpole to the mendacious posters of the prostitution industry.
Thank you, Sister Margret, you got the ball rolling. And thank you, Michael Horlacher, your agency has designed the motifs and persistently supports the implementation of the campaign in different cities.
This award is also a symbol for us that it is worthwhile to stand up and get involved.
We have to, because in Germany hundreds of thousands of women live in prostitution. And the reality in it has nothing, but nothing at all to do with what the prostitution industry is trying to make us believe. For they trivialize and deny the violence that makes up the core of prostitution.
The sale of "Body, Freedom, Dignity" – this banner of the "RotlichtAus" campaign is hanging from the Schorndorf town hall – is trivialized as "sexual service". So that sex buyers consume instead of reflecting on their actions and their responsibility in this cruel market.
Yes, we must and will continue to talk about what we see in prostitution and what we experience in contact with the prostitutes. We take that as a duty and as a constant challenge.
We need to inform because only knowledge can move people to get involved, stand up, face the headwind, in order to fight for a better world for all of us.
The core of prostitution is violence. It is brute, merciless and thoroughly destructive. And when I say that, at once Ankuza appears before my inner eye, who could barely read and write and who was traded into prostitution in Germany by her own mother. I well remember her sitting in front of me and saying with tears in her eyes: "I don't want to be a bitch girl any more."
And I think of Blanca, who was taken by a pimp out of a Hungarian orphanage only to force her later into prostitution.
Over the years and decades, such images and stories have accumulated in me. One of them is the memory of a woman sitting in front of me in a cloud of sadness and saying: "I died here."
And then I see Sandra sitting here on the podium, who was able to free herself and is now going public to inform about the perfidious "loverboy method" and prevent other girls from being manipulated away from the schoolyards into prostitution.
And "SISTERS" is also Sonja, who ended up on the street because she was pregnant from her own father and had to earn there the money for the abortion. And to whom, at some point, when she was finally drug addicted and had reached rock bottom, a john said: "Misery fucks well." Now she goes into schools, doing there preventive work and thus preventing other young girls from sharing her fate.
All this is "SISTERS". We take the award as an obligation to continue and stand up for
prostitutes and a world without prostitution.
Thank you very much for this award!
Source of and copyright for all Images: City of Schorndorf